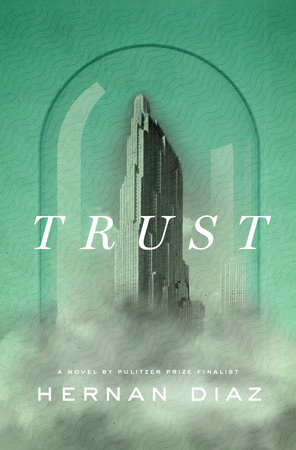 Trust by Hernan Diaz
Fiction suggested by Barbara
From Amazon – An unparalleled novel about money, power, intimacy, and perception. It engages the reader in a quest for the truth while confronting the deceptions that often live at the heart of personal relationships, the reality-warping force of capital, and the ease with which power can manipulate facts.
From Amazon reviewer LindaL – How does wealth affect one's life and relationships?
In Trust, a novel by Hernan Diaz, the story of a depression-era financial baron, Andrew Bevel, is told from four different points of view, four discrete narratives within the book. The versions are nested, and the reader can figure out which narrators are reliable and detect which elements of the stories are plausible. Critics have said that Diaz has the uncanny ability to write about the gap between history and reality. Though this is a fictional work, it is easy to extrapolate how stories of wealth and fortune often manipulate the facts to accentuate the prowess of the powerful.
The interconnected elements of the story emphasize the wealth of males and seemingly portray women in stereotypic roles of wife, secretary, housekeeper, and nurse. Mildred Bevel, Andrew's wife, emerges as a main character in the book, and her voice becomes more evident as the story develops. Diaz demonstrates how influential people in history, primarily men, tend to silence the voices of detractors, especially women.
… One focus of the text is wealth and surviving the economic collapse of the 1930s. The events in the story make one consider whether money is the primary commodity in life and how important money is to the American myth of ingenuity and success. Another prevalent theme is human relationships, which we view differently in the four components of the novel. Diaz shows how individual perceptions cloud the status of marital communications and memories. Detachment within marriages and families and mental illness contribute to the narratives.
Additionally, the arts and their dependence on philanthropy are integral to the plot. Family secrets and clandestine activities prevailed in all relationships: husband/wife, daughter/father, employee/employer, nurse/patient. Of course, human relationships in the story thrive and suffer from the influence of money, commodities, taxes, and 1930s-era politics. As the title suggests, one never knows which voices to trust.