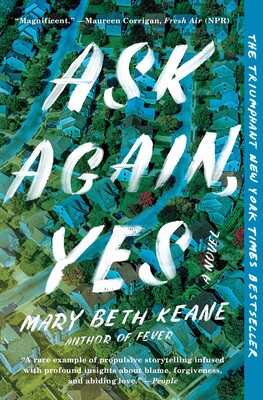 Ask Again, Yes by Mary Beth Keane
Fiction suggested by Lisa
From goodreads: A profoundly moving novel about two neighboring families in a suburban town, the friendship between their children, a tragedy that reverberates over four decades, and the power of forgiveness.
Francis Gleeson and Brian Stanhope are two NYPD rookies assigned to the same Bronx precinct in 1973. They aren't close friends on the job, but end up living next door to each other outside the city. What goes on behind closed doors in both houses—the loneliness of Francis's wife, Lena, and the instability of Brian's wife, Anne, sets the stage for the stunning events to come.
This is a new book in 2019 by Mary Beth Keane. Her first novel, The Walking People (2009) was a finalist for the PEN/Hemingway Award, and her second novel, Fever (2013) was named a best book of 2013 by NPR Books, Library Journal, and The San Francisco Chronicle. In 2011 she was named to the National Book Foundation's "5 under 35." She was a 2015 Guggenheim Fellow in Fiction.